Keighley College Lecturer meets King Charles III
Keighley College Games Design Lecturer, Adil Hussain, was honoured to meet King Charles III on Tuesday during the king's two-day trip to Yorkshire. 
The monarch visited Bradford City Hall where he met with Adil and several other young leaders, and spoke to them for a few minutes.
Adil was there representing QED, a foundation that aims to transform the lives of people from disadvantaged communities. He was recently shortlisted for their Yorkshire Asian Young Achievers Awards, an award that goes to those who have overcome adversity or broken down barriers in order to progress.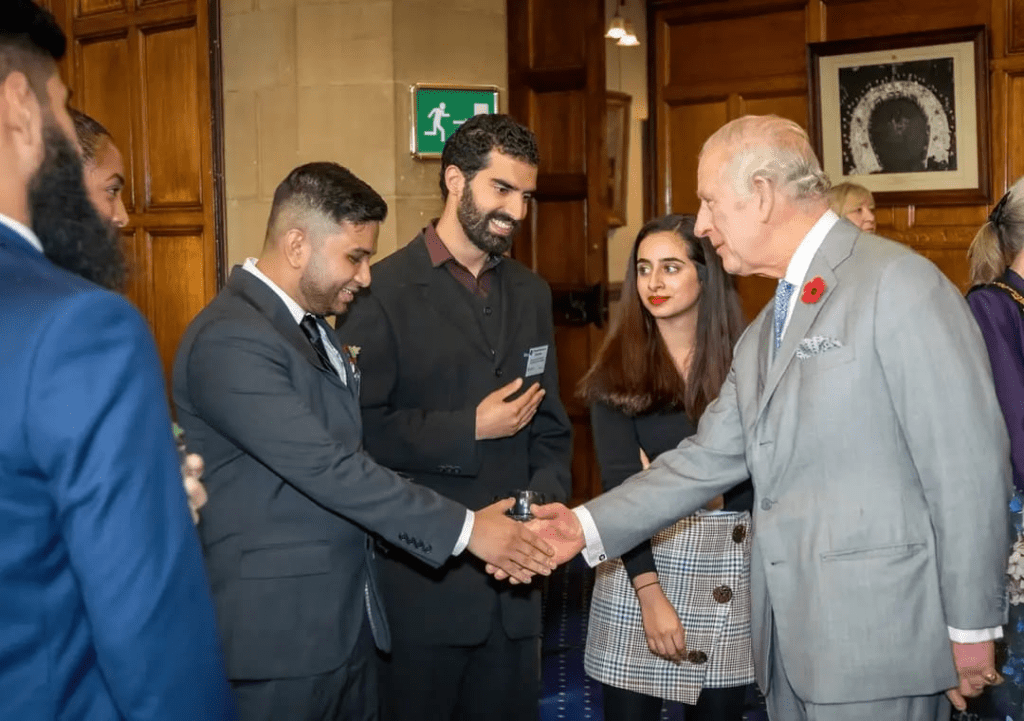 Speaking about his experience of the day, Adil said:
"I've never met a royal before, I was very nervous.
"When His Majesty arrived, he went to each table and greeted us. I shook his hand and he asked me what I do.
"I was there representing QED Foundation Yorkshire Asian Young Achievers and I told him I'm a games lecturer at Keighley College.
"When I told him that I'm a games design lecturer helping students make video games, he asked if I made video games myself and joked that he hoped I was making appropriate ones."
When asked about the king himself, Adil commented that:
"My overall impressions of him were very positive. He was very human and down to earth. He listened to every person. I was proud and honoured to meet him.
"I feel so appreciative towards QED for giving me the opportunity to meet His Majesty, King Charles III.
"I want to thank Adeeba Malik CBE DL, the Deputy Chief Executive at QED, for giving me this once in a lifetime opportunity, as well as Simon, Sarah and Eleni from the Digital & IT team and the rest of the team at Keighley College.
"It was also a great opportunity for myself in terms of networking, I met some powerful and influential people.
"I'm over the moon, I feel like a little celebrity."
King Charles also visited Morrison's headquarters in Bradford to learn more about their sustainable farming work. Following the City Hall reception, the king went onto Leeds where he visited Leeds Central Library and Leeds Art Gallery.
The winner of the Yorkshire Asian Young Achiever Awards will be announced on Friday 11 November at their celebratory dinner at the Cedar Court Hotel in Bradford. You can watch the event, which will be broadcast live online, here.