Skills competition final for apprentice Harry
'A huge achievement!'.
That is how one of our apprentice welders, Harry Pullan, has described reaching the finals of a national skills competition.
The 23 year old is one of just ten welding apprentices from across the country who will battle it out in the ultimate stage of WorldSkills UK this winter.
Harry, who is working for Keighley firm Byworth Boilers, earned his place after impressing the judges in the regional heats in July.
A morale-boosting confirmation
He said: "It feels unreal to have reached the final, but I am glad to see my efforts pay off! I love my job and to be part of the final ten in this competition just lets me know I'm in the right place.
"The qualifiers were a good experience because I met some lads from another company and was able to find out a bit about their work, and learn about a few different machines.
"Working as an apprentice has provided me with the best of both worlds because I get all the practical, on-the-job learning and then at college I learn all the technical knowledge and get my qualifications."
Harry's welding journey began when he was 19. He started his apprenticeship working for a firm that makes scaffolding towers and stillages, before moving to Byworth Boilers last summer.
Outstanding support
He said: "My knowledge and skills have increased so much since joining Byworth, and Keighley College is the reason I ended up there – and in the WorldSkills competition. I can't say enough good things about the college; I owe a huge thanks to my tutor, Adam Sutcliffe, and my assessor, Ash Fieldsend, for their support."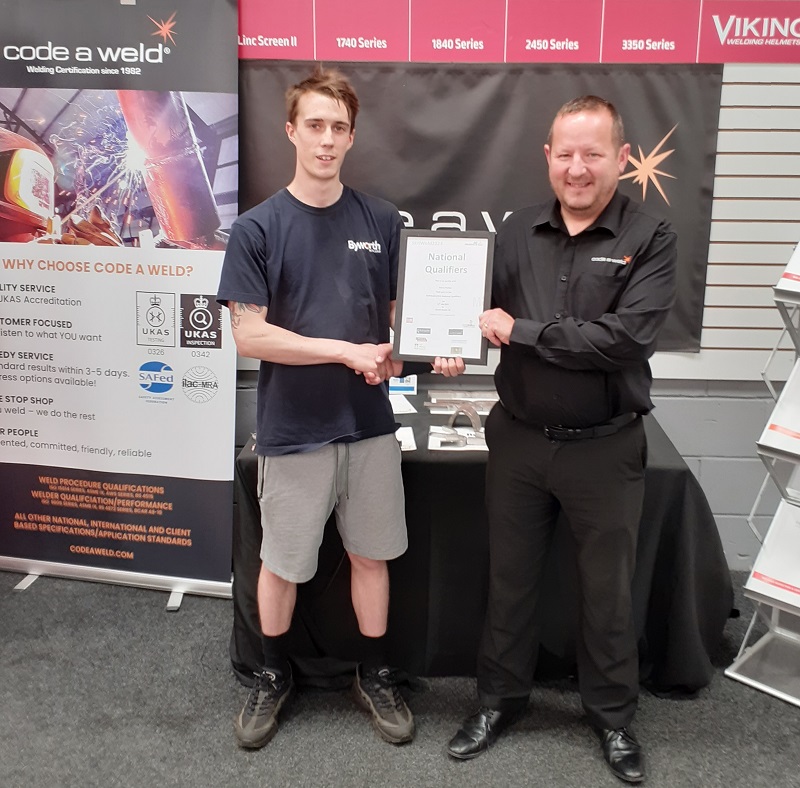 Tutor Adam encouraged Harry to push on in the competition when he had doubts. He said: "Harry is a top student, and has been since he started as a level 2 apprentice.
"He's keen in the classroom and wants to learn and, practically speaking, he just loves to weld – and he's very good at it.
"He is a cracking lad and is a pleasure to have in the group. We are all chuffed for him, and I think he will do well come finals day."
Looking ahead to a bright future
Harry will be one of more than 400 students and apprentices – competing in 51 skills ranging from digital construction to health and social care – taking part in the WorldSkills UK finals in November.
He added: "All I can do in the final is focus, work and get my tasks done. If I get a podium finish then I'll be over the moon, but even if I place last I'll be happy because to be in the top ten is already a huge achievement for me.
"As for the future, I'll have to wait and see because I am very happy at Byworth but, at the same time, I would love to weld all over the world."
The WorldSkills UK finals will be held at colleges, independent training providers and universities across Greater Manchester from November 14 – 17.