Ready to return to education and develop your career prospects?
Discover lifelong learning with Festival of Learning
Festival of Learning
What is the Festival of Learning?
Festival of Learning is a national campaign that aims to celebrate, highlight and promote the benefits of lifelong learning and help adults aged 19 and over to discover their passion.
Whether you want to learn essential skills, upskill and reskill for your career or pursue a hobby – there is something for everyone, regardless of age and at all levels from beginners to higher education.
Through the Festival of Learning, we hope to shine a light on the different expressions of adult education, by creating inclusive opportunities for those who want to return to education for the first time, try something new or improve their skills.
Take part in our Have a Go Fortnight
Join us in a celebration of adult learners through our Have a Go Fortnight at Keighley College from 1 to 12 November.
Over two weeks, we're inviting all adults across the region to learn something new, enhance employability and improve wellbeing – through bespoke adult taster sessions, activities, events and seminars on a whole range of exciting subjects.
Get a taste of our diverse curriculum areas and study options by discovering our 'Have a Go' events here.
Interested in pursuing your passion further?
We're committed to supporting everyone with guidance and offering a wide range of exciting full-time and part-time courses to improve future job prospects for 19+ learners.
Our lifelong learning programmes are aimed at enriching adult lives, providing you with better opportunities and the ability to adapt to unexpected changes.
We offer adult courses in Access to Higher Education, Professional, Leisure, Vocational and Essential Skills.
If you have any questions about studying at college or university or know someone who is thinking about career development and their options for the future, get in touch with us today.
Discover our upcoming events
Whether you want to learn more about a particular course area or explore multiple courses, our workshops and events will help you understand your options.
Learn how to develop skills and boost your confidence through residential days, virtual seminars, taster sessions and open days, delivered by a group of providers who work within the Leeds City Region.
Check out some of our events taking place this year. Follow our group hashtag #FoLpartners
Want to get involved?
The Festival of Learning is always looking for new partners. Be part of shaping the future of adult education. Get in touch today.
Get in touch with us today
Keighley College
keighleycollege.ac.uk/adultlearning
Useful links and resources
The Festival of Learning partnership offers a wealth of resources and events for adult learners.
Click the link below to discover more…
www.leedsadultlearning.co.uk
Click to read why adult and community education matters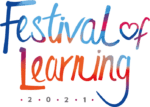 Our partners
Luminate Education Group, which comprises Leeds City College, Keighley College, Harrogate College, White Rose Academies Trust and University Centre Leeds, is working with local partners to deliver programmes that develop skills and support the mental health and wellbeing of adults in Leeds City Region.
West Yorkshire Combined Authority
Leeds City Council
Bradford Metropolitan District Council
West Yorkshire Consortium of Colleges
Lifelong Learning Centre, University of Leeds
The Prince's Trust
Northern College
Yorkshire Centre for Training and Development
We know that many adults across the region have other commitments, such as families and jobs. Together, we will provide flexible learning approaches which accommodate your commitments, encouraging you to upskill and reskill in a Covid-19 safe environment.